Would you add salt to coffee to sweeten it? If the answer that comes to your mind is "of course not", let me tell you that the same is true for nail bases.
Why?
The answer is just as simple: each type of nail requires a different base coat according to its needs and, as we already told you in this article, it is a mistake to always apply the same base coat on all your manicures.
Our hands are constantly exposed to external factors such as cold, rain, and now more than ever to disinfectant gels and other chemicals that deteriorate the appearance and health of our nails.
Of course, stress and diet also have an influence on the quality of our nails, as well as permanent nail polish and nail extensions do not contribute much to their care.
The result? Soft, brittle, dull or flaking nails. This results in an enamel that lifts or cracks easily.
So what can you do to avoid making a mistake when choosing the right nail base coat?
Read on and strengthen your nails by following a few simple steps! I'll tell you about it below.
Pay attention to the color of the nail
Do you notice yellowish spots? Then the garlic and lemon in the strengthening treatment base are your great allies, because this nail base with vitamins combines them to perfection.
And don't worry! It does not smell of garlic or lemon, but it does contain their depigmenting, antibacterial and disinfectant active ingredients.
What is the purpose of the nail strengthener base coat? What other effects do they have on our nails? These two natural antibiotics combined act as a great hardener: garlic brightens and inhibits the negative effects of free radicals, while lemon acts as an antioxidant and aids in collagen production.
But that's not all! As if that were not enough, this nail care base coat for yellowish nails is vitaminized with keratin (protein responsible for giving structure and hardness), vitamin E (antioxidant, to prevent nail deterioration) and castor oil (to soften cuticles and stimulate nail growth).
It is compatible with any traditional enamel and can be applied without enamel! So now you know, do not hesitate and strengthen your nails easily and quickly.
STOP flaking and/or stretch marks!
As I told you above, keratin is formed in layers and its mission is to act as a strengthener and give structure to the nails.
And what happens when the levels of this protein drop in our organism? We notice its effect not only on our nails, but also on our skin, hair, and even our teeth.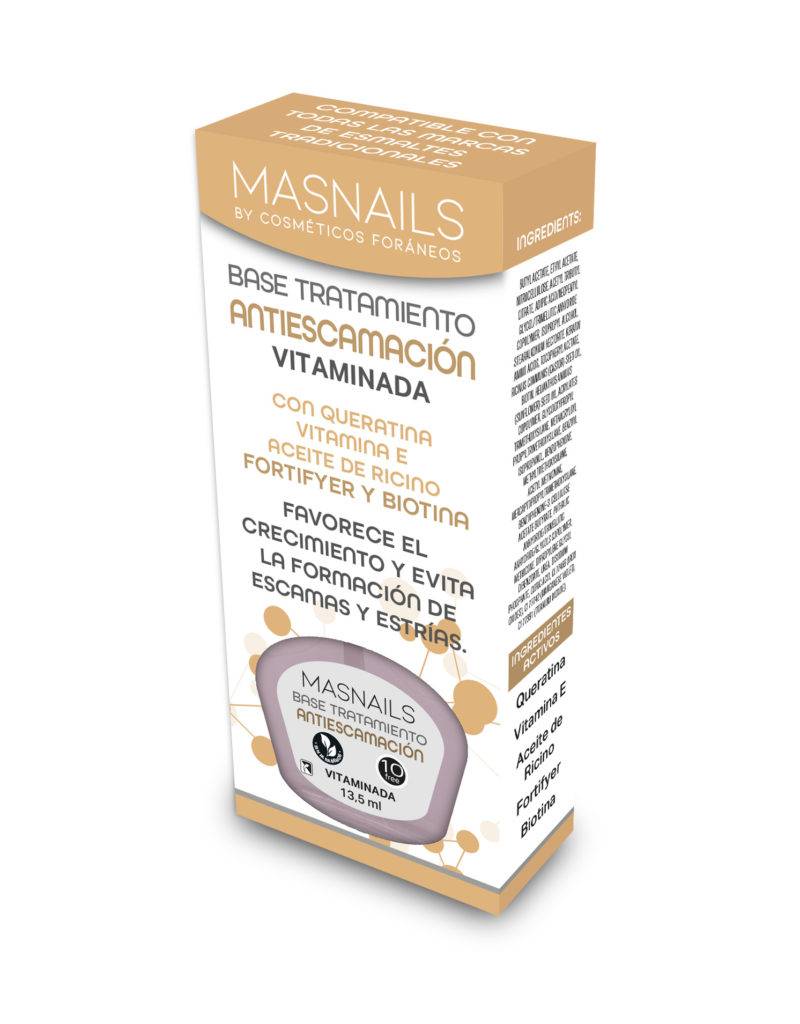 So let me introduce you to what will be your great allies in these cases: keratin (of course, great nail hardener), vitamin E, castor oil and two star components: fortifyer and biotin.
Forti… what? Fortifyer! It is a novel formula obtained from a reinforcing fiber base for use on the natural nail.
And why is it so important?
Because thanks to this cosmetic hardener ingredient, a perfect adhesion of the nail polish to the nail is achieved, increasing its resistance to scratches.
For its part, the Biotin (also known as vitamin B7) is another great ally in the fight against peeling and splitting nailsThanks to its metabolizing and strengthening properties, it helps the beginning of the nail (the whitest part) to improve and grow stronger and also helps the nails to become thicker again.
So now you know, if your nails are flaking and/or cracking what you need is Masnails Anti-Scaling Treatment Base, a nail base with vitamins that you can find here.
What is the nail surface like?
Occasionally our nails may show irregularities, as well as lose thickness. In these cases, if we apply nail polish on them, we will notice how the final result is not uniform, and we need a remedy that effectively levels and hardens the nails.
Your lifeline to this problem? We got it! Masnails Leveling Treatment Base is formulated to lift your manicure when you need it. The enamel will look flawless after application.
Nails also dry out!
As you read. And that means… Your manicure needs extra hydration! And who is the queen par excellence in these matters? The rosehip!
Rich in fatty acids and vegetable ceramides, it becomes a basic in our toiletries that we can always turn to when we need it.
And for the nails? Keep Masnails Nourishing Treatment Base close by, as it contains nutrioil, an active ingredient rich in plant ceramides, 100% of natural origin, from Rosehip, Paramela and Jojoba.
The polish you choose will also thank you as soon as you start using it.
5. If you don't identify with any of the above options… Then what do your nails need?
Even a healthy nail needs pampering and care, to prevent or when they show weakness.
For them, the base for strong nails is ideal due to its high content of keratin, vitamin E, castor oil and fortifyer.
It is the perfect hardener to maintain and lengthen their current state or when they show signs of brittleness.
This vitaminized nail base coat is one of those cosmetics that you should not miss, as it strengthens the nails due to its formula as a hardener.
Because it never hurts to add a little extra resistance, don't you think? Prevention is better than cure.
Psss…. In case you didn't know, Masnails Treatment Bases are 10 Free, paraben-free, gluten-free, fragrance-free, animal cruelty-free and 100% vegan.
Do you have any doubts? Don't forget that you can consult your trusted manicurist, who will identify your nail type and advise you on the best base coat to meet your needs and make your polish look shiny and flawless.