10 FREQUENTLY ASKED QUESTIONS ABOUT WOOD THERAPY BY FOREIGN COSMETICS
EVERYTHING YOU NEED TO KNOW ABOUT WOOD THERAPY BEFORE UNDERGOING TREATMENT
Why is wood therapy the most demanded and fashionable aesthetic treatment? It is not
by chance. Health, beauty and wellness from a dual approach: mental and physical. In addition,
is a non-invasive technique with visible effect and high impact from the first sessions.
● Thus, it not only helps to reduce stress levels, but also activates renewal.
cellular, firms and tones the body, shapes the body contour and is also beneficial to
to combat different muscular discomforts such as back or neck pain.
● It has it all, and yet many questions are raised when talking about
wood therapy: Does it work? Does it hurt? What types of massages are there? How many sessions are
necessary? Can it be combined with other treatments? Are the results long lasting?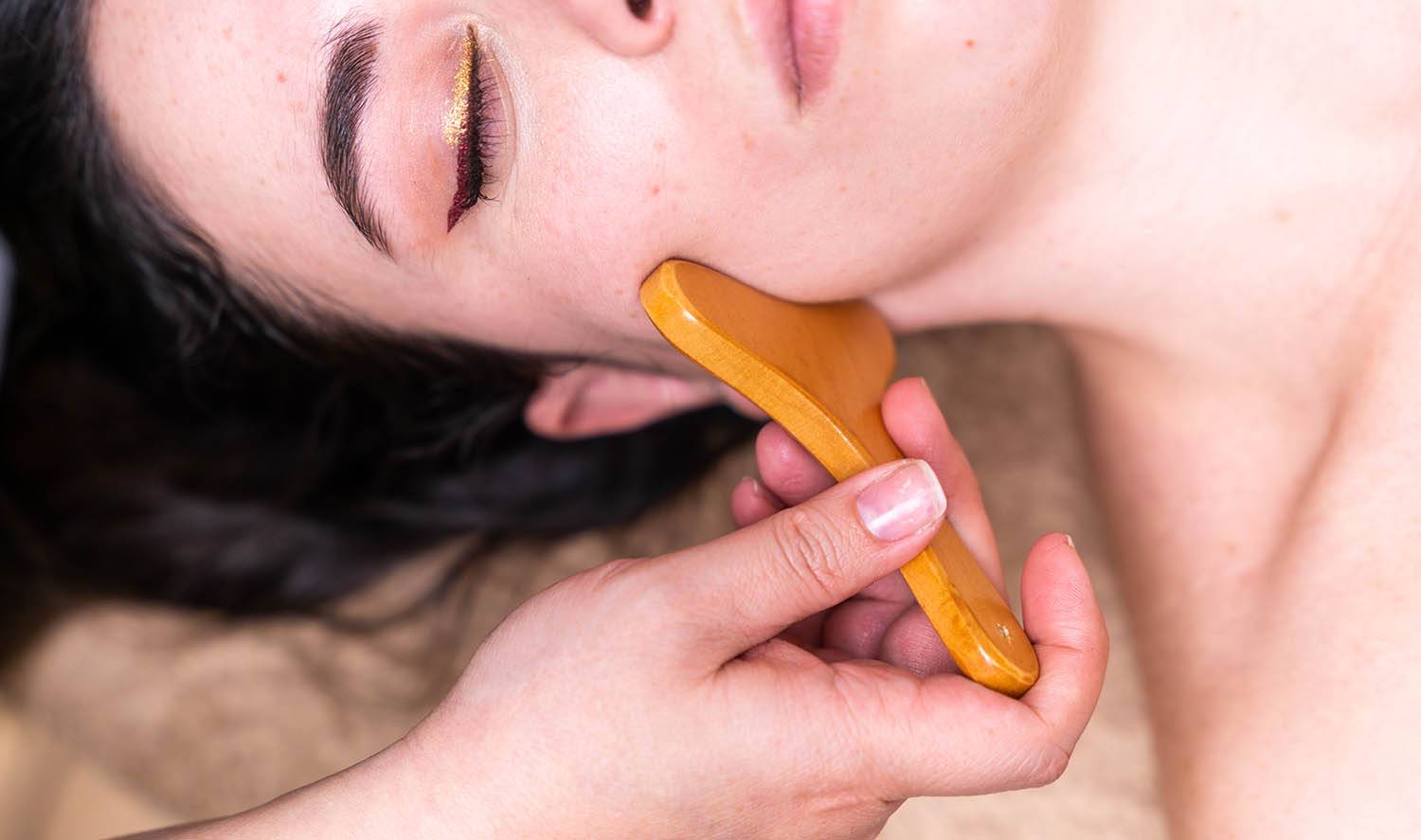 Madrid, February 22, 2022. Why wood therapy has become the treatment of choice for
most demanded aesthetic? Also fashionable and not by chance. There is no longer anyone who has not heard of its benefits or who does not want to try it. Health, beauty and wellness from a dual approach: mental and physical. High impact and visible effects after the first sessions, it not only activates cell renewal, firms and tones the body and shapes the body contour, but also helps to reduce stress levels and is beneficial to combat various muscular discomforts such as back or neck pain. There is much more…
Undoubtedly, it has it all and yet, many questions still arise when talking about wood therapy: Does it work? What types of massages can be performed? How many sessions are necessary? Does it work for all parts of the body? Can it be combined with other treatments? Are the results long lasting? Does it hurt? Is it really such a new technique? Can it be performed by anyone or at home?… That is why Cosméticos Foráneos, a leading company in the distribution and marketing of professional beauty products and training for more than 10 years, wants to answer some of the main questions starting from the beginning:
Obvious, but not so obvious… why is wood used?
Fire, earth, metal, water and, of course, wood. From time immemorial, it has been
The five natural elements have been used to explain all phenomena including
the stages of life or the functioning of the human body itself. Therefore, they are part of the
important part of the millenary oriental tradition for centuries. Health, beauty and wellness.
Specifically, the wood element is associated with the channeling of energy,
balancing it and guaranteeing its free transmission through the organism. Also with the
blood circulation and growth, but also with muscle tone and physical fitness.
Wood is expansion and, above all, firmness.
Why is it fashionable if it is not so new?
The same essence as then, but, more recently and centuries later, the technique has
to Colombia, where it has been perfected mainly for the purpose of
aesthetics. However, always maintaining this dual approach both mentally and physically.
that makes it different. Therefore, wood therapy now not only helps to activate the
cell renewal, firming and toning the body and shaping the silhouette.
also reduces stress levels and is beneficial in combating different types of stress.
discomfort of muscular origin such as neck or back pain. All in one
treatment. Health, beauty and, of course, wellness.
So, what exactly is wood therapy?
Taking all this into account, and in a few words, wood therapy is defined as follows
as a holistic massage technique based on pressure and the repetition of
a series of movements using specially designed wooden elements
to achieve the desired results in each part of the body.
What are the benefits of wood therapy?
The list is endless… Stimulates blood microcirculation; helps to reduce and eliminate excess natural fat and cellulite in a non-invasive way producing volume loss in arms, belly, legs, hips and arms; accelerates metabolism to burn body fat; activates the lymphatic system, minimizes fluid retention; lifts and slims the buttocks; firms, smoothes and tones the skin …. It also reduces stress, relaxes the mind and body, relieves physical and mental tension, and even improves sleep quality! Wood therapy has it all.
How does wood therapy work? Goodbye to cellulite and much more!
Yes, the technique of wood therapy involves the repetition of a series of movements that, applied with the appropriate instruments on muscles, fat deposits and cellulite, stimulates the body's own lymphatic system to free it naturally and non-invasively from accumulated toxins.
In addition to activating the metabolism to burn them, it helps to destroy the most stubborn bags and tones the epidermis, reducing orange peel skin. As simple as it is effective and, at the same time, always so complicated to achieve with other products or treatments.
What are the main types of massages or treatments that can be performed?
Although, above all, it is known in anti-cellulite, slimming, firming and body shaping treatments, the possibilities of wood therapy go much further. It is becoming more and more common for muscle relaxation purposes or even in certain facial applications. In the latter, it is a powerful tool that helps to redefine the facial oval and reduce jowls, while generating a lifting effect. It also works the muscles of the forehead and eye contour where the main objective is always focused on facial rejuvenation and the reduction of wrinkles or other visible symptoms of the passage of time.
Is it really effective? From when can the first results be seen? How many
What sessions are necessary in a wood therapy treatment?
From the first session, visible and high impact, but without forgetting that each body is different and reacts in a different way. There are no universal laws or magic formulas, although it is also something that depends on the technique, skills and knowledge of the person performing it, regardless of the type of massage. Even so, after several sessions the results will be more than evident. Moreover, as in almost everything, the key is consistency. One session is never enough and only a qualified professional will be able to determine the number and frequency of sessions needed to achieve the desired goal. More outstanding and, above all, long-lasting results.
Is it compatible with other treatments?
Wood therapy is not only compatible with other protocols and products, but also enhances their effect by creating synergies that help to achieve the objective, whatever it may be. For this reason, Cosméticos Foráneos has developed and offers a wide and innovative range of facial and body treatments with specific active ingredients such as Artichoke 2%, Caffeine 2%, Centella asiatica 2%, L-carnitine 20% or organic silicon 0.5%, among others, which, when applied topically during each session, will accelerate and obtain the desired result. Hands up who is not looking forward to trying them!
Is it possible to do wood therapy at home?
For these reasons, it is ideal for any wood therapy treatment or massage,
to be truly effective, it must be carried out by qualified and trained professionals.
in this technique. It can be done at home, but it must be taken into account that the
results will never be the same because success depends on aspects such as
technique, skill and experience. Aware of the importance of training,
Cosméticos Foráneos offers a complete program of courses and activities
training courses for the improvement of this aesthetic discipline, such as the following
ser: Anti-cellulite treatment for reduction and management P.E.F.E with
Maderoterapia, Firming, reducing and draining treatment with
Maderotherapy, Relaxing and descontracturant treatment with
Maderoterapia o Facial treatments with maderoterapia.
What else do you need to know before starting
a wood therapy session? Little else. Just relax, feel and enjoy its effect on the skin and its benefits on the body. Fire, earth, metal, water and, of course, wood in the most fashionable aesthetic treatment and also the most demanded. It has it all. Health, beauty and wellness from a dual approach: mental and physical with Maderoterapia by Cosméticos Foráneos.