It refers to that aesthetic and spiritual micro-need that can be easily satisfied with Foreign Cosmetics treatments.
There are formulas for everything, including mathematics to determine the saddest day of the year. January's uphill, the bad weather, the shorter days and the long time left until the next holiday make next Monday the 17th the already known and dreaded Blue Monday.
Say goodbye to sadness and melancholy with Cosméticos Foraneos! Because master formulas always work better than mathematics. Health, beauty and wellness! Everything is related: the state of mind has a great influence on health, and also on appearance.
Starting the day off on the right foot no matter if the left one comes first, relaxing and releasing serotonin and, above all, shining bright are just three of the ways that Cosméticos Foráneos has to bring a smile to your face on Blue Monday or any other day of the year.


Madrid, January 13, 2022. According to a mathematical formula proposed in 2005 by a Cardiff University professor, the third Monday in January is the saddest day of the year. The January slope, the bad weather, the many days we will have to wait until the next holiday… everything comes together to make us feel sad and depressed on that day, which in 2022 falls on January 17. And the time is not for less: Covid-19, masks, confinements, bad weather, the price of light … this month has everything to get uphill.
Health, beauty and wellness! Everything is related. Numerous studies support this. Mood influences (and a lot) on health and physical appearance (and vice versa). Happiness has an impact on health: the happiest people are those who enjoy better health, and the simple fact of smiling strengthens the immune system. Likewise, it has been proven that happiness is closely related to self-esteem, and that the more satisfied a person is with his or her image, the happier he or she is.
Three ways to face Blue Monday with Foreign Cosmetics
Because what really matters is…Health, beauty and well-being! Optimism and good spirits are very beneficial, and on a gray and sad day like Blue Monday, any help is good to fight melancholy. Overcoming this unfortunate day does not have to be difficult: all you need to do is to satisfy a few small aesthetic and spiritual needs with the treatments of Foreign Cosmetics. so that smiles and good spirits return to the faces of those who put them into practice and those around them (and we must not forget that good humor is contagious, and so are smiles).
Start the day off on the right or left foot with a Jelly Spa Gel Ohh Lavender treatment.
An aromatherapy spa pedicure experience with multiple benefits: lavender is known for its calming and anti-stress effect. This natural antidepressant harmonizes the emotions and is ideal in states of physical and mental fatigue. This treatment consists of two sachets, the first of which converts the foot spa water into gelatin, which prevents the heat of the water from dissipating and in turn accelerates the process of softening hard skin, while enjoying a unique, relaxing, moisturizing, detoxifying, refreshing and aromatherapy sensation. After 15 minutes, the second sachet is added to dissolve the gelatin, which will disappear from the bathtub when the cap is removed. A treatment that gives your feet wings! RRP: 5 euros.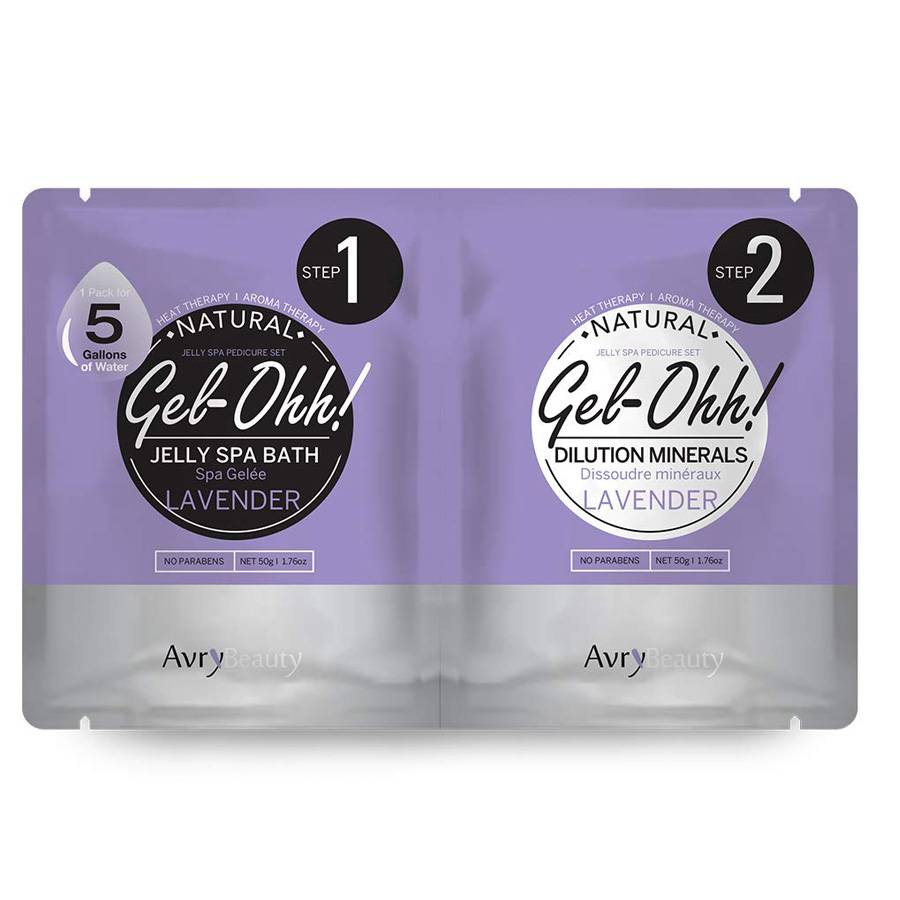 Release serotonin with a Maderoterapia massage by Cosméticos Foráneos.
Serotonin is a neurotransmitter closely related to the control of emotions and mood. Also known as the happiness hormone, it generates feelings of well-being, relaxation and satisfaction, as well as increasing concentration and self-esteem. An easy way to release it is to get a massage, and what better massage than a relaxing wood therapy treatment? This treatment not only helps to reduce stress levels, activate cell renewal, firm and tone the body and shape the silhouette, but it is also beneficial to combat various muscular discomforts such as back or neck pain. All through a holistic massage technique with elements, precisely made of wood, and specially designed for each of the parts of the body or application. Cosméticos Foráneos has a specific kit of wooden tools and specialized training to guarantee the benefits of this ancient technique with the utmost safety.
Bymglow by Foreign Cosmetics so you can shine like never before.
And, in addition, to do so always with its own light. It has been proven that feeling beautiful helps to improve your mood and to be happy. A radiant, even and rejuvenated skin tone, with imperfections or blemishes corrected or radically attenuated on the face, neck and décolleté. Radiating natural beauty in a long-lasting way, that really puts you in a good mood! And don't forget that smiling is contagious: the myth of Blue Monday's days are numbered. RRP: 112 euros (5 vials).