Rubber de Masnails nail gel base 15ml
€14.40 IVA incluido
Our brush-on gel rubber base is a hybrid between permanent nail polish and builder gel. The great advantage is that it provides strength to fragile and brittle nails. It is very easy to handle and the final result will have the desired volume as in the best gel nail. Ideal to give more strength to the nails with its construction, at the same time make small extensions, and fill the groove of the natural growth of the nail and the construction made.
Description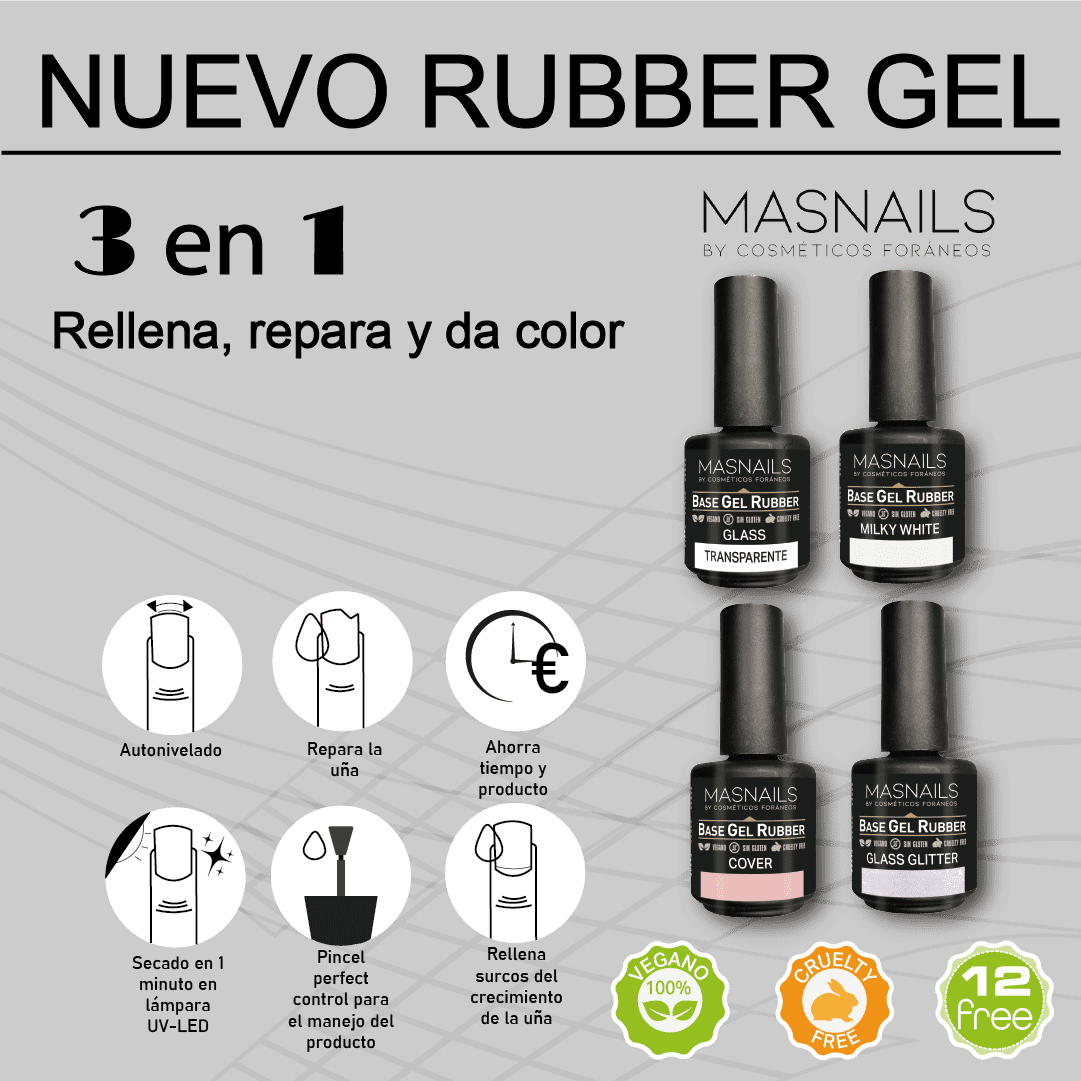 HOW IS IT APPLIED TO FILL GROWTH FURROWS?
1. With the nail perfectly clean and filed with the desired shape, smooth the jump in growth of the natural nail and the tips, if any.
2. We proceed to apply the gel rubber base, with the help of a brush we will reach the sides of the nail and the cuticle area, being careful not to exceed them. Being self-leveling, this process is very simple.
3. We will cure in a UV lamp for 60 seconds and we will proceed to remove the inhibition layer with a cleaner.
4. Our rubber gel base is self-leveling, in order to enamel we must pass a polishing file and thus leave it matte.
5. Limpiamos los restos de polvo y procedemos al esmaltamos. We will apply the chosen color by sliding the brush loosely. Don't forget about the free edge.
6.Cure the first and second coats in a lamp for 60 seconds.
Additional information
| | |
| --- | --- |
| Weight | 0.3 kg |
| tone | Milky white, Cover, Glass glitter, Glass |
| Capacity | 15 ml |